Alternate Names:  Diizin, Diizinuog, Dizi, Dizi-Maji, Dizinog, Dizinya, Maji, Majinya, Sizi, Twoyu
Population: 35,950
Location:  South West Ethiopia.  Southern Nations, Nationalities, and Peoples' region: Bench-Maji zone.  South of Mizan Teferi, and West of Omo National Park.  
---
Southwest Ethiopia: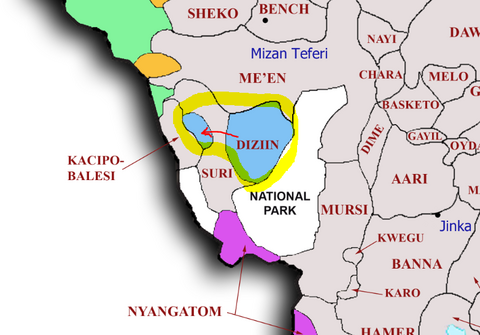 "Oral Bibles" - Stories from the Bible
---
The Dizin Scripture App currently contains scripture text for Genesis 1-24, The Gospel of Mark, The Gospel of Luke, The Gospel of John, Acts, 1 Corinthians, 1 and 2 Timothy, Titus, Philemon, James, First,  Second, and Third John, and Revelation. It also contains audio for Genesis 2-11, The Gospel of Mark, Acts, and James. More text and audio will be added in the near future.
If you have an Android phone you can access the app here: 
https://play.google.com/store/apps/details?id=org.ethiopiascripture.diziinbible.mdx
Please contact EthiopiaBibleApps@gmail.com if you have any questions about the app.